Impression
Posted By Chris Priestman 9/12/2013
There's not much to jerry clouds, and there's not much I can say about it because it's a game that needs to exist on its own. My being here is only going to spoil the short amount of content there is; I'm THAT middle man that you don't need.
You May Also Like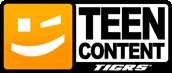 Intense Cartoon Violence
Intense Fantasy Violence
Intense Realistic Violence
Blood and Gore
Alcohol Use
Drug Use
Tobacco Use
Intense Language
Real Gambling

You must be logged in...
Log in immediately through...