Subbuteo goes flash in this table top football game, play through 25 challenging levels where you have to get the ball into the opposite goal, avoiding the opposing teams players and goal keeper. Avoid fouling other players on the level will fail. Instructions: Use the mouse to control the player, pull away from the player to increase force.
Show Less
You May Also Like
No Comments Yet
You must be logged in to post a comment.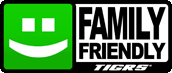 You must be logged in...
Log in immediately through...