Polymorphous Perversity is a sex-themed RPG. You are a young male with an unknown sexual disorder captured by a mysterious agency and thrown into a bizarre parallel reality where everything gravitates towards sex.
You're set on a sexual quest to explore unknown lands, meet strange people, and learn more about your sexuality.
Show Less
You May Also Like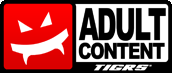 Sexual Violence
Alcohol Use
Drug Use
Nudity
Strong Sexual Themes
Intense Language
Mature Humor

You must be logged in...
Log in immediately through...