Rainbow Raindrops is a fun and challenging puzzle game. Switch the places of two adjacent drops by sliding the finger over them. Join three or more drops with the same color and they will disappear. Don't let them reach the top of the Screen!

If you can chain drop matches, you'll earn more points. Try to make as many chain matches as possible. But be careful! As your point increase, drops will fall faster and the game will get harder. You must be as fast as possible!
Show Less
You May Also Like
1 Comment
You must be logged in to post a comment.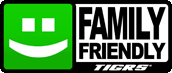 You must be logged in...
Log in immediately through...