The Penguin ballroom is full of 87 characters from Penguin's Popular book range but you have to find just 12. Use your powers of observation and lateral thinking to find them in the quickest time.
Show Less
You May Also Like
No Comments Yet
You must be logged in to post a comment.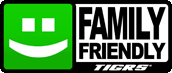 You must be logged in...
Log in immediately through...