Block-O-Mania is my first real game, and is a fiendishly difficult puzzle. Essentially, I saw the classic Soko-Ban in glorious CGA graphics, and thought that I could do better than that. Therefore, the game contains four differently-colored block types, one-way arrows, wrapping screens, some other new puzzle elements, and many tricky levels.

Its initial release on the BBS scene went mostly unnoticed, but a decade later it received a warm reception among niche fans on the internet.
Show Less
You May Also Like
1 Comment
You must be logged in to post a comment.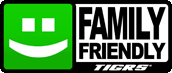 You must be logged in...
Log in immediately through...