A port of the original Tincan game made with GameMaker in 2 1/2 hours. This remake took about double the time (plus lots of googling with the triangular BitmapData's).
This is not for the faint of heart. Navigate Tincan through a nearly impossible platforming adventure. Can you win? I don't believe you can. Prove me wrong and tell me the ending message in the comments.
© 2011 Bret Hudson. Music by PixlCrushr.
Show Less
You May Also Like
14 Comments
You must be logged in to post a comment.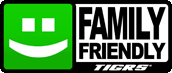 You must be logged in...
Log in immediately through...