Show All (8) Media
Hide Extra
In a quest through the universe, the brave Oigres launches into interplanetary adventure. He´ll have to face dangers and traps to reach his spaceship. Help this young explorer to continue his journey! Dodge lasers and keep in mind the gravity to move on and prevent your ship for beeing destroyed. Discover the different worlds and return safely to the space!
Use Left and Right keys to move the character. Press Up key to jump and Down Key to crouch. Press Down while moving forward or backward to yaw crouching.
Show Less
You May Also Like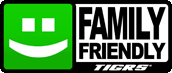 You must be logged in...
Log in immediately through...