Big mouse small party is a fun little game that revolves around a cute little mouse who needs to lose a lot of weight. So one day he decides to set the mood by throwing himself a party and doing the one thing that's a sure fire way to make him thin again. What is this you may ask? Well, it's jumping jacks of course! Yes, every time you click on the mouse he'll preform a jumping jack, and depending how many times click depends on how thin this fat mouse will become! Oh, and did I mention the high scores? That's right, for every click you'll get a point and when the game is over, you'll see you just how many points you've collected in that games, as well as previous ones! So come on, what are you waiting for? Download Big mouse small party for FREE today!
Show Less
You May Also Like
3 Comments
You must be logged in to post a comment.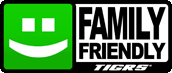 You must be logged in...
Log in immediately through...