A Walk in A Forest is a short platform-exploration game I made. There's not much too it (A total of 63 small rooms), but enough to pass some time. I got the idea for it after watching a trailer of Andrew Brophy's Anyone Else's World. The story-line is that you're a kid who goes for a walk in a forest and gets lost, and has to find a way back to his house (I know, very, very cliche!).
Show Less
You May Also Like
3 Comments
You must be logged in to post a comment.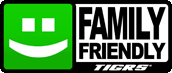 You must be logged in...
Log in immediately through...