Cubelands public beta is now open!
By Wooglie

on 10/16/2010
Cubelands has moved from a private beta to a public beta. We removed the beta key requirement so everyone is welcome to play the game. Be among the first new users :)!
Fully customizable worlds (multiplayered) 
You can change the terrain textures very easily, this is streamed from servers to clients. This enables themed worlds. The possibilities are endless; Recreate a factory, the desert, Alaska, Heaven, Egypt, Mars etc... As you can expect from Cubelands, customizing the textures is very easy, there's no need to make your own texture atlas etc. See the tutorial forum for details.
I look forward to see the first customizations!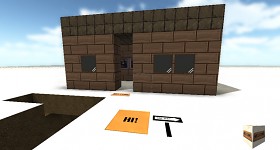 Shadows + Fully customizable sun cycle
You can change the suns rotation, whether it rotates at all, the Ambient light color and more. 
Other improvements
There have been various other improvements:
Easy importing/exporting A game patcher New chat commands Great performance improvements New community features on the website An online character viewer Never play alone! New quickplay function to easily connect to a random server. Many small bugfixes/improvements
Viewed 1,861 Times
User Comments
You must be logged in to post a comment.
You must be logged in...
Log in immediately through...