Maps for Robicheaux's Escape
SHORELINE MAP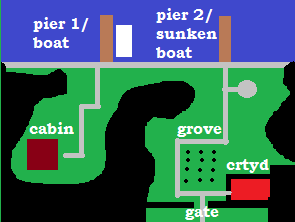 Outside the harbormaster's cabin. The gray walkway leads directly to the hotel gate, so don't worry about getting lost.
HOTEL EXTERIOR LAYOUT
This will help simplify the impressively huge exterior map.

HOTEL FLOORPLAN

This will (hopefully) help the notes you find make a little more sense.

Viewed 215 Times
User Comments
You must be logged in to post a comment.
You must be logged in...
Log in immediately through...