The goal of this game is simple. Survive as many rooms as possible while destroying as many enemy robots as possible. In some (but not all) of the rooms you will find two items to help you in obtaining your goal. The first item is ammunition (each of which will give you 5 extra rounds of ammunition) and the other item is life (which will add 1 to your life each time you get it). You must use your ammunition wisely to avoid running out. The rooms will change each time you play it so no two games will be the same. And do not touch the walls or you loose a point of life.
Show Less
You May Also Like
No Comments Yet
You must be logged in to post a comment.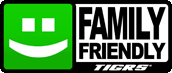 You must be logged in...
Log in immediately through...