Hours of entertainment lies ahead of you as the arcade genre comes back with a vengeance! DataStream Y2K600 takes no prisoners on its way to resurrecting the pure unadulterated game play that the entire industry was built upon. No fancy graphics, no social media BS, and no silly advertising tie ins; Just rock solid retro fun. A MUST PLAY GAMING EXPERIENCE!
Show Less
You May Also Like
No Comments Yet
You must be logged in to post a comment.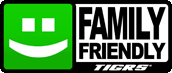 You must be logged in...
Log in immediately through...