Reciproca is a unique top-down arcade shooter.  You control both the black and white ships at the same time.  You can only shoot the enemies using the same color ship. 
Use the arrow keys to move and press space to shoot.
As you shoot the screen will turn red.  If the screen turns too red you won't be able to shoot for a while.
When either ship touches an enemy of the same color the game ends and you can sumbit your score.

Let me know if you find any bugs or errors.

Show Less
You May Also Like
5 Comments
You must be logged in to post a comment.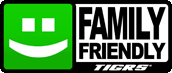 You must be logged in...
Log in immediately through...