Show All (8) Media
Hide Extra
Pong - One of the most ancient video game in this world.
But what would it be in 21 century?
wait...I know you might thinking...
"Is that just another classic pong game?"
NO! THIS IS PONG REVOLUTION!
A game will throw you into 80's, and blow your mind into an ancient arcade store like good old days!
What else are you waitng for!
Show Less
You May Also Like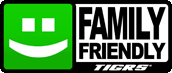 Game News
Posted On 7/1/2013
Posted On 6/30/2013
Posted On 6/29/2013
You must be logged in...
Log in immediately through...