Petualangan Aksara di Tanah Jawa (PAJ) is a game that combines advanced technology and uniqueness of culture. This game provide not only fun factor, but also education element about Aksara Jawa to the players. Formerly Aksara Jawa is a traditional script used to write Javanese language manuscript so it need to be preserved. By simple and intuitive gameplay, players can  play this game easily. In addition, the user interface which is very attractive and filled with Indonesian cultural elements give the new playing experience.
Show Less
You May Also Like
No Comments Yet
You must be logged in to post a comment.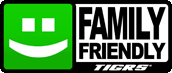 You must be logged in...
Log in immediately through...