Frustrating endless race that takes place in 80's
Show Less

Impression
Posted By Chris Priestman 12/5/2013
The beats are half-muted yet still fresh in Hotline Trail, an arcade motorbike endless racer in which you never know when the road is going to suddenly slalom, turn into a roundabout, or decorate itself with some purple and green trees. It's all about endurance, because it's set in the '80s, which if you consult video games for your research, is all about blurry neon lights, drugs, and hawaiian shirts.
You May Also Like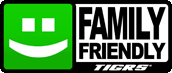 Game News
Posted On 1/6/2014
Posted On 12/9/2013
You must be logged in...
Log in immediately through...