Tire Storm is the latest physics driven game from Farseer Games. It is a fun, casual, 5 to 10 minute time-waster.

You are a tire (yes, a tire!) floating adrift on a log in the middle of the ocean. Your goal is to stay on the log as long as possible as a storm rolls in and the ocean waves get crazy.
That's it, simple but fun.
Show Less
You May Also Like
4 Comments
You must be logged in to post a comment.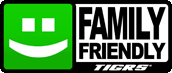 You must be logged in...
Log in immediately through...