It is my first game made with Construct... You play as a new superhero - Nasos Bodun. His quest is to defeat army of perverts from New Sodom, gang of crackheads from Da Hood, legion of undead nazis from abandoned bunker near castle Wolf.exe and to stop police lawlessness once and for all. 4 levels of mayhem, secrets and evil bosses!
Show Less
You May Also Like
No Comments Yet
You must be logged in to post a comment.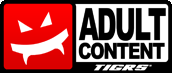 Intense Cartoon Violence
Intense Fantasy Violence
Animated Bloodshed
Sexual Violence
Alcohol Use
Drug Use
Brief Nudity
Suggestive Themes
Mature Humor

You must be logged in...
Log in immediately through...