"La Torre de Nozar" is an action game created by SebaGames (http://sebagames.net) in two weeks for an uruguayan videogame contest. This is an educative game, to learn mathematics (consecutivity of numbers, to be more prescise). The learning curve is compatible for any audience.
This game is in spanish language, but can be played perfectly without have to understand all texts.
Show Less
You May Also Like
13 Comments
You must be logged in to post a comment.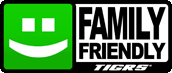 You must be logged in...
Log in immediately through...