HyperBowl Classic is an authorized remake of the original first lane from the 3D fantasy bowling attraction created by Hyper Entertainment. Move the mouse to push the bowling ball forward, left, right, even backwards! Roll around to explore the scenery, but watch out for the water and the time.
For more information, visit http://hyperbowl3d.com/ HyperBowl is a trademark of Hyper Entertainment, Plc.
Show Less
You May Also Like
2 Comments
You must be logged in to post a comment.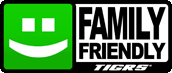 You must be logged in...
Log in immediately through...