Balooning is a "loony" game in which you control a deflating balloon.  Navigate the balloon through colorful levels while dodging obstacles and breaking bricks in your way! Play for points by collecting all of the grey-colored point blocks or play to set the best-time and rush through the level as quickly as you can. Fun for all ages!
Show Less
You May Also Like
No Comments Yet
You must be logged in to post a comment.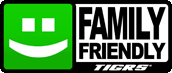 You must be logged in...
Log in immediately through...